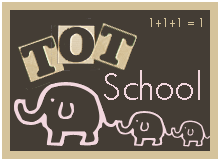 I'm starting to think that Tot-school entries are more realistic for me to do every two weeks instead of every week.  There are times that we seem to do a lot, and then other times that days go by and we're busy doing so much other stuff that we don't sit down and do anything specific.  I guess that's why Carisa, the founder of Tot School has a section each week called "Life School."  It's the place that you include the everyday happenings that may not be planned, or really "school"-ish, but are still learning opportunities.  I've never blogged about bathtime, but that would be a perfect example of "Life School."  In the bath, she learns a lot about water, temperature, pouring, her own body, cleanliness, etc.  Anyway.  Small tangent over.  ;) 
So in the last 2 weeks, our "Tot School" has included two trips to the library, two trips to the zoo, a new bedtime routine (that now includes reading for at least 20-30 minutes before bed each night!  This started by accident.  We used to read a book or two before bed, and one night we just kept reading!  So now, we're reading books downstairs and not in bed—because otherwise it's hard to say "last one!" when they're still within reach or sight.  I LOVE reading so much and watching the joy she finds in books, so this change is welcome.), and going with me to the doctor's office for an ultrasound (followed by shopping!). 
Anyway, more "official" tot-school activities include:
1) Spooning activities.  I can't remember if I posted this in the last entry, so if I did, sorry!  This activity was pretty simple.  I showed Ella how to transfer the colored pom-poms from one bowl to the other using the spoon.  She loved this activity!  It sat out for at least a week, and she went back to it a few times to do it again.  She also liked throwing the pom-poms, because they're soft and very light (and are safe for throwing inside!).  This was how I set this one up for her:
And then she did it!  She's very skilled with a spoon when she eats, so I wasn't surprised that she did well with this one.  (This was before bed one night, so she's in her PJ's already!)
She also liked a variation, using  a 1/4 teaspoon and some cereal (puffed corn).  After transferring everything to the second cup, she ate it.  :)   
2) Water pouring
Ella loves to pour water (or whatever!) from one container to another, so I gave her two shot-glasses and filled one with water.  I also gave her a washcloth to clean up any spills.  I think she would be happy to do this activity every day!  Keeps her very busy! 
Using the washcloth to clean up spills on her tray.  Then, since it was already wet, I asked her to wipe the table off when we were done!  
(I think I'll be asking her to wash off the table again in the future.  It's a great, easy "chore" that she can do!)
3)  Color Sorting
I printed these awesome Color-Matching Cards, cut them out, laminated them, and then rounded all of the corners (because they were sharp after I cut them out!).  It took a lot of work, but these have been used daily.  Before they were done, Ella was playing with the sheet of yellow cards (still waiting to be cut out after laminating them).  She was telling me about the pictures, and then found a basket that we have that was also yellow.  "Look mama!  Yellow!"  So, I went with it, and asked her if there was anything else that was yellow.  Before too long, we had a yellow basket full of yellow toys!  So fun!
When the cards were finally done (I think it took me 2 hours start to finish, over 2 days, to complete these!), she wanted to play with them.  I set up the color name cards (red, orange, yellow, green, blue, and purple), and gave her a few cards at a time.  She carefully looked at each one and put it in the appropriate color column.  I was impressed (especially considering that at this point, she didn't really "know" her colors, she would just randomly say a color name if you asked her what color something was). 
When she was done, this is where she had placed the cards:
She didn't get through the whole stack of cards (she lost interest), but did pretty well I'd say!  And like I said, she's been playing with these cards almost every day since.  And, I think she's actually learning the color names!  Now, she'll pick up a card and say "Orange!" or "Purple!"  She doesn't know all of them (red, green, and blue still give her trouble), but she's getting there.  ;) 
4) Blocks
We have a few different kinds of building blocks, and she really likes these!  I have no idea what brand they are, but they basically connect together.  I just happened to catch her at a very happy moment here: 
5)  Painting! 
I can't even count how many times each week Ella paints.  If we're bored or need something to do, she often asks to paint! 
Sometimes painting on paper turns into painting on hands… ;)  
We even tried painting with pipe-cleaners instead of paintbrushes, just to be different. 
…which also turned into more finger painting.  :) 
Some fun random ones: 
…and we found out that Ella will have a little sister! 
This "Little Sister" shirt will go perfectly with the "Big Sister" shirt be bought for Ella months ago…