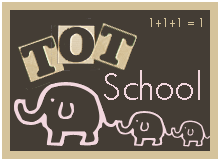 Finally, a tot-school post!  I was very busy this month gathering ideas, cutting, laminating… and I was lazy and never wrote about any of it.  I put together this really fun math kit that includes counting, color matching, shape sorting, patterns, size sorting, and more! 
Some of the activities are still a little beyond what Ella is interested in right now, but I know that she'll get there eventually.  I obviously don't want to push her to do anything she doesn't want to do—after all, the point of all of this is to be FUN! 
One of the activities that she likes to do is this counting game.  She puts the little gems into each box, and together, we count them!  I found this on Confessions of a Homeschooler's blog.  She has printable sheets for numbers 1-10, but we only did 1-5. 
Ella used her crayon rocks several times over the past couple of weeks!  They're so fun and come in a fun little pouch, which makes cleaning-up easy to do! 
We also did art with tape—I just ripped off several strips of each color and let her put them on the paper however she wanted.  The sticky feel makes it a fun challenge! 
She also painted a "pumpkin" this week!  (Did you notice the change in season?!  Or change in wardrobe?  It was 90 degrees last week, and today it was 50.  Gotta love crazy Ohio weather!)
And finally, today I put together this fun Fall-Themed sensory tub!  Ella was SO excited to play in it—she spent at least 30 minutes quietly playing, exploring, pouring, and dumping!  Included in this tub:
black-eyed peas
green split peas
black beans
silk leaves
mini gourds and pumpkins
an ice cream scoop
measuring cups
I clearly need to do more sensory-type activities, as she LOVED doing this one!  I expect to get this tub out often!